Q&A with Tom Palmer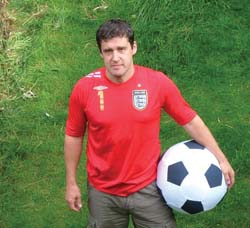 How did you become a writer?
I think it started when I got into reading. That was when I was 18. But once I like to read I started to want to write. To see if I could do it, I suppose.
Where do you get the ideas for your books from?
From real football crimes. Every day the newspapers have new stories about dodgy dealings in football. I start my ideas there, then exaggerate.
How do you go about writing your stories, and how long do they take?
A Foul Play book takes four to six months to write. The Football Academy books take a month each. I start by going to the places the book is set, make a plan, then I write a first draft. I spend a lot of time making changes to improve it. That's the most important bit for me.
Do you base your characters like Danny Harte in the Foul Play books on anyone in real life?
Sort of. Danny is what I wish I'd been like when I was 14, but wasn't. And my villains are based on real people, but if i said who they were some would sue me. Others might have me killed. Honestly!
What books do you enjoy reading?
Stories. Books about travelling to foreign countries. Crime fiction. Books about football abroad. Anything.
Can you recommend any good books for anyone who has enjoyed your Foul Play series?
Yes. Keeper by Mal Peet, Young Samurai by Chris Bradford, Stormbreaker by Anthony Horowitz, Young Bond by Charlie Higson and The Fix by Sophie McKenzie.
What advice do you have for anyone who wants to be a writer?
Read books by lots of different authors. Write about what you love or hate. And never give up, whatever other people say.
What do you do when you're not writing?
Spend time with my wife and daughter. Watch football. Read. And I've taken up running 10km races.
Which football team do you support, and why?
Leeds. Because I was born there and I love them.
Who do you think will win the World Cup this summer?
England!