Interview with Andy Stanton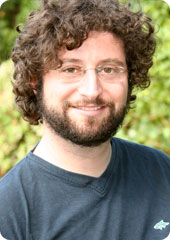 What is your favourite children's book?
The Eighteenth Emergency by Betsy Byars.
Which of your books is your favourite?
Mr Gum and the Night of the Avocadoes (Available February 2060)
How long does it take you to write a book?
Between 4 and 6 months depending how lazy I'm being.
Where do you get your ideas from?
I steal them from other authors / my brother / small children.
Who is your favourite character?
It changes all the time. It used to be Billy William the Third. Then it was Friday for a while, then the Spirit of the Rainbow. At the moment it's Old Granny. But secretly, my best character of all is Polly I'm really proud of her.
Are any of your characters based on real people?
My auntie used to have a big dog called Jake so I suppose you could say that some of my characters are based on real dogs. But apart from that, probably not.
When did you start writing?
I've written bits and pieces of nonsense all my life. My teachers sometimes used to tell me off because the stories I wrote in class were so silly. And now I do it for a living, ha!
Are you mad?!
THE TRUTH IS A LEMON MERINGUE!
Can you say Pollys full name backwards?
No, but I'm working on it. Until recently I couldn't even say it forwards.
Why is Friday O'Leary called Friday O'Leary and not Monday O'Leary?
Because his brothers name is Monday O'Leary, of course.
Where is Lamonic Bibber?
Somewhere on the East coast of England between the mountains and the sea. The air smells of mountain goats or fish, depending on which way the wind's blowing that day.
If you could have a special power what would it be? The power to make blackberries appear just by thinking about it.
What kind of music do you like?
Prince, Bob Dylan and everything in between except for the rubbish bits, i.e. Robbie Williams.
What's your favourite hairstyle? Lots.
Do you like cheese and crackers?
Yes, and I especially like the little party hats you get in the crackers.
If you werent called Andy Stanton what would you be called?
Sir Elizabeth Bacon.
What's it like being an adult?
Quite similar to being a kid but a bit higher up.
What's the worst job you've ever had?
Reading the news on Japanese TV. I can't read or speak Japanese so it was a difficult four years.
Were you good at English at school?
Yes. Me good at English. Me like English good lots.
Why do boomerangs come back?
Because they love you.
Do you have any small children or whopper dogs like big old Jakey?
I don't have any small children of my own but I do have lots of small cousins. One of them is called Ben, actually he's not that small but he's got long hair like a girl. I sometimes call him "the beautiful lady" and then he calls me "caveman" because I'm quite hairy myself. I don't have any whopper dogs like big old Jakey either. Actually, just like Friday O'Leary, I'm secretly a bit scared of whopper dogs.
How did Alan Taylor get wonderful electric muscles?
I honestly don't know but it's lucky he has them or he'd just lie around a lot doing nothing.
What gave you the idea for Mr Gum?
I just wanted to come up with the nastiest, smelliest, stupidest villain I could think of. Bingo! Up popped Mr Gum. And I put him in old-fashioned tramps' clothing because that makes me laugh, for some reason.
What inspired you to be a writer of such "funty" books?
I wanted to write a story to make my cousins laugh, yes even my cousin Ben, or "the beautiful lady", as I call him.
This interview first appeared on the Mr Gum website.