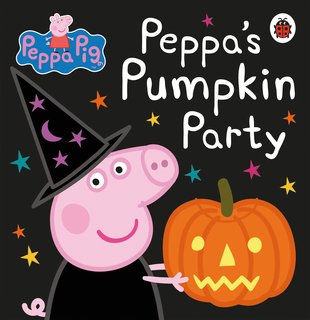 Look inside
Peppa Pig: Peppa's Pumpkin Party
My! Isn't Peppa busy? Her Halloween party is the spookiest thing since spooky was invented. Get ready for a treat. And a few tricks, maybe! Hey kids: grab your fake fangs, pointy hats and broomsticks. It's time for Halloween fun with your favourite piglets – and pumpkins! Do you like dressing up? Or carving jack-o-lanterns? Or dancing to spooky music? This cute story has all those things. Sweeter than a slice of pumpkin pie!
Fun-filled Halloween antics with Peppa and her friends
Have fun identifying party guests in their spooky costumes
Very simple and colourful story, ideal for the youngest fans
Great for little ones ahead of their first Halloween party
#autumn-reads07092016
#halloween-1016
#halloween20-16
#halloween-2017
Fun Stuff
Activities
Peppa loves to ride her bike, and now you can colour her in!

Everyone loves to jump in muddy puddles, especially Peppa and her family. Use your brightest colours!
Who's reading this?
We want to read this book