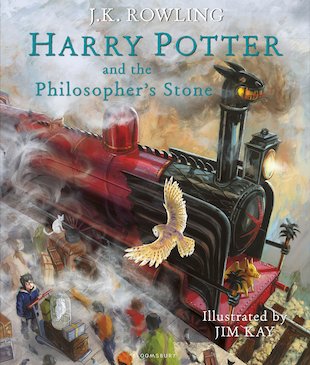 Look inside
Harry Potter Illustrated Editions: Harry Potter and the Philosopher's Stone (Illustrated Edition)
Welcome to a masterpiece. A beautiful gift; a treasure to keep for your entire life. Basically, nothing we say can explain the wonder of this book. It's as powerful and magical as Harry's phoenix-feather wand. The story of the greatest boy wizard of all time. Now with Jim Kay's miraculous colour artwork. The Hogwarts sorting ceremony. Diagon Alley. Ollivander's wand shop. Potion classes with Snape. Live through every moment again. Not just once but time after time after time.
#crown-jewels
#black-friday-2015
Illustrated colour hardback of JK Rowling's masterpiece
Stunning artwork by the illustrator of A Monster Calls
Jim Kay is a Kate Greenaway Medal winner
Over 400 million Harry Potter books sold
#winterwarmers
#heroes-villains
#tile-heroes-villains-teen
#tile-favourite-authors
#magicreads-230616
#strong-female-characters
#harrypotter-010816
#film-tv-nov16
#blockbuster-wbd
#games-films-wbd
#carnegie-2017
#award-winners17
#film-tv-march17
#screen-gaming-17
#gift-guide-xd-film-tv
#gift-guide-xd-magic-adventure
#film-tv-november-17
#isbc-handpicked
Who's reading this?
We want to read this book