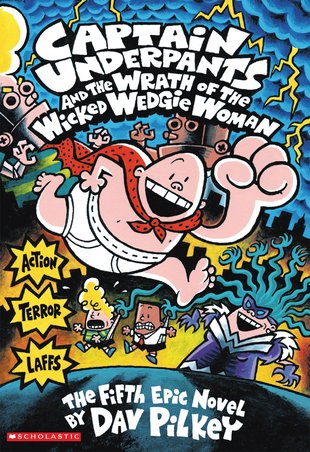 Look inside
Captain Underpants #5: Captain Underpants and the Wrath of the Wicked Wedgie Woman
Tra la la! Now it's in full colour. But be warned: whopping wedgies inside! George and Harold are having a normal kind of week. Yesterday they found out they were going to flunk fourth grade. Today they've created a super-evil monster. She's got a fake-fur Evil Baddie costume and a robot army – and she's having a REALLY bad hair day. Even worse, she's armed with Spray Starch: the only weapon that works on Captain Underpants! Can George and Harold stop her evil wedgies before she makes the whole world go "ouch"?
New colour edition of this Captain Underpants classic
Brilliant mix of easy-read text, jokes and cartoons
Over two million series titles sold in the UK alone
Captain Underpants Dreamworks film coming soon!
#adventure-sc17
#screen-gaming-17