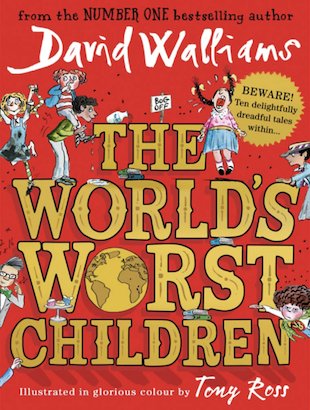 Look inside
The World's Worst Children
Next time your cruel parents throw the book at you, toss this book right back at them! David's cautionary tales about really rotten kids will make your grumpy folks sooo glad they have wonderful YOU. David Walliams has freaked out the world with his awful adults. Evil aunties. Sadistic dentists. But you ain't seen nothing yet. Now it's time to shudder at the World's Worst Children: five beastly boys and five gruesome girls! There's Sofia Sofa: a TV super-fan who is literally stuck to the couch. Or the gross Dribbling Drew. (Don't sit next to him on a school trip.) Blubbering Bertha is always bawling and telling awful tales. Plus – isn't that Raj? How did he sneak in?
The hilarious bestseller by the UK's funny sensation
Ten cautionary tales with colour pictures by Tony Ross
Wickedly funny, mischievous and superbly imaginative
Brilliantly surreal send-up of kids and their bad habits
#funnyfiction-1309
#dahl-rr
#giveabook-2511
#blockbuster-wbd
#sum-18-ie
Fun Stuff
Who's reading this?
We want to read this book