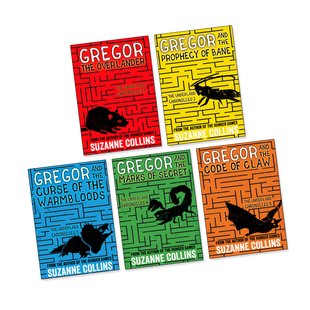 Look inside
Rewards Value Pack: The Underland Chronicles Pack x 5
Rewards Value PackGreat value book packs available on rewards.
By the author of The Hunger Games, and every bit as awesome! All the danger, battles and terrifying enemies – UNDERGROUND! A laundry room is just for laundry, right? Err, not in Gregor's apartment block. His laundry room is a doorway into a vast subterranean world. When Gregor falls through a grate in the floor, he ends up in a frightening (but very thrilling) Underland. Giant bugs, massive rats, almost total darkness… If you're feeling nervous, we don't blame you. As for poor Gregor, he faces a destiny we really don't envy: a great battle involving an army of slithering rats!
Gripping fantasy by the author of The Hunger Games
Suzanne Collins won the Red House Award in 2010
New York Times bestsellers with glowing reviews
"Fascinating, vivid, highly original" – Booklist
#summer-18
#sum-18
Who's reading this?
We want to read this book