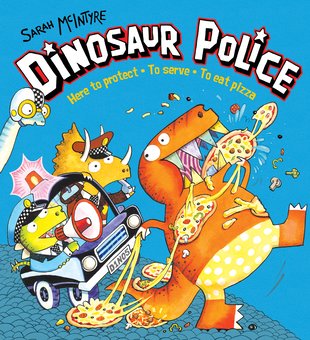 Look inside
Dinosaur Police
Love pizza? Quick: hide yours, or this T-Rex will steal it. Can you help the dino cops stop his rampage? Or are you too busy laughing? Nee-nah! It's a dino pizza emergency. How much do you like your favourite cheesy hot snack? Enough to chase a very hungry T-Rex? That's brave. You must be part of the Dinosaur Police squad! Grab your blue hat. Turn on your siren. Make sure your tail's neatly tucked in. Give chase! Pizza, police and dinos: it's a picture book triple whammy. Hello hello hello – if you're greedy for giggles, read this!
A rollicking treat from the wonderful Sarah McIntyre
Car chases, loud sirens, pizza and a rampaging T-Rex!
Sarah is the author of There's a Shark in the Bath!
Her zany, award-winning style is adored by little ones
#funnybooks-springclub-17
Who's reading this?
We want to read this book