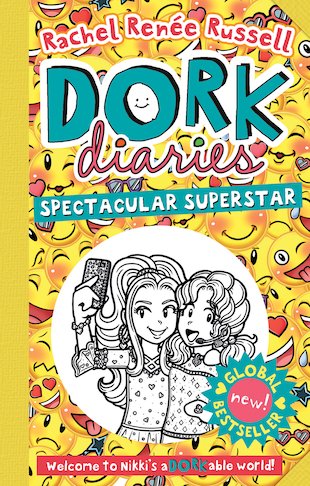 Look inside
Dork Diaries #14: Spectacular Superstar
Stardom is calling! Yes, for real! Nikki is off on tour with the Bad Boyz! She and her bandmates will spend ALL SUMMER hanging out with the world-famous act. It's Nikki's dream come true, and nothing is going to spoil it. Right? Err, wrong! Here comes trouble with a capital M! Yup – MacKenzie Hollister is back, turning Nikki's dream into a nightmare. She's weaseled her way onto the tour, which is bad enough already. But the girls can always stay a safe distance apart, right? Wrong AGAIN!!! Is it time to go home yet?
The latest blockbuster from this mega-selling series
Now with over 30 million copies in print worldwide
Full of laugh-out-loud humour and fantastic cartoons
Great for fans of Tom Gates or Diary of a Wimpy Kid
Who's reading this?
We want to read this book