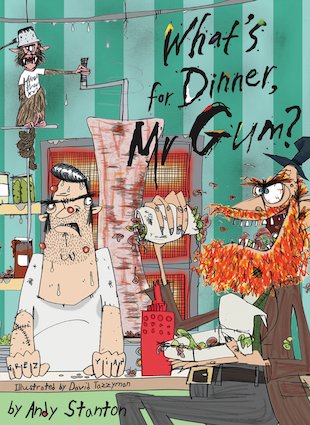 Look inside
What's for Dinner, Mr Gum?
Smooky palooki! Mr Gum's back! But what's he up to this time? Oh, dreadful things, my friends; dreadful things indeed. It seems he's found himself a brand new treat – rancid kebabs dripping with dirty grey sauce. And he just can't get enough of them. He's gotta have more! More! Less! I mean, more! But not everyone is happy about Mr Gum's new dinnertime arrangements, and soon the town of Lamonic Bibber is gearing up for war… Tighten your belts for this cracking comedy from a Roald Dahl Funny Prize winner!
"Smooky palooki! This book is well brilliant! Andy Stanton is far too clever and funny and should be locked away in a very dark place that nobody can find." Jeremy Strong
"A wickedly entertaining story." Bookseller
Fun Stuff
Activities
Download this bonkers wallpaper for your computer!

Download the Mr Gum Card Tournament, complete with character cards with ratings for hairiness, intelligence, stink factor and more!

Download this funny Mr Gum wallpaper for your computer!
Who's reading this?