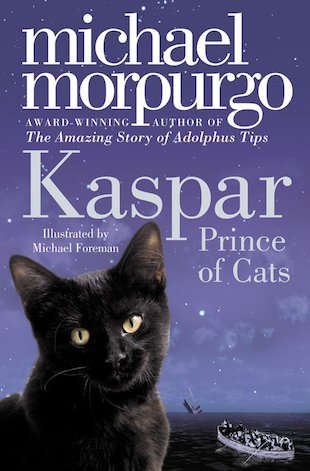 Look inside
Kaspar, Prince of Cats
Prince Kaspar Kandinsky – Prince of Cats, Londoner, Muscovite and New Yorker – stars in this glittering tale from Michael Morpurgo. Kaspar the cat first came to the Savoy Hotel in a basket. Johnny Trott knows, because he was the one who carried him in. Johnny was a bell-boy, you see, and he carried all of Countess Kandinsky's things to her room. But Johnny didn't expect to end up with Kaspar on his hands forever. Nor did he count on making friends with Lizziebeth, a spirited American heiress. Pretty soon, events are set in motion that will launch them all into adventure. But will Kaspar and Jimmy the bell-boy survive theft, a rooftop rescue, a trip all around the world… and the sinking of the Titanic?
A magical adventure story packed with thrilling ingredients: bell-boys, dukes, American heiresses, Russian nobles, ocean liners – and cats!
"Michael Morpurgo has written many splendid novels about cats, and this tale, told by a bell-boy at the Savoy Hotel, is a gem." Amanda Craig, The Times
"A beguiling story." The Independent
#gr-8to9
Fun Stuff
Activities
See if you can find these words from your favourite stories in the grid.

Can you guess which Michael Morpurgo book these clues and quotes are from?

Can you re-arrange these words to discover more fantastic Michael Morpurgo book titles?
Who's reading this?
We want to read this book