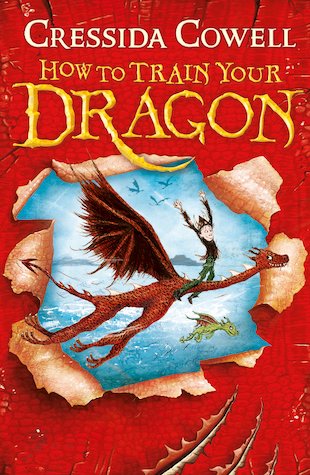 Look inside
How to Train Your Dragon #1: How to Train Your Dragon
Hiccup Horrendous Haddock III was just a nerdy little Viking, not big or hairy or scary at all. In fact, however terrifying he tried to look, he often just ended up looking quite – well – cute! He wasn't loud enough to make himself heard at his father's dinner table. He wasn't tough enough to beat his rival Snotlout at games. He certainly wasn't stupid enough to go into a cave full of dragons to find a pet! So how did Hiccup meet his tiny sidekick Toothless the Dragon, and become a mighty hero after all?
The first book in Cressida Cowell's best-loved series
Vikings, dragons, magic and laughs: the perfect mix!
Hilarious writing paired with witty pencil cartoons
Now a major Dreamworks film and TV spin-off series
"Bulging with good jokes, funny drawings and dramatic scenes, it is absolutely wonderful." Independent on Sunday
#middle-readers
#bookadventure2016-7to9
#bookadventure2016-9to11
#anotherworld-2016
#bookadventurers-010716
#6-9-books
#middle-readers-2
#primary-092016
#readandrespond-0816
#top100-092016
#top100-ages7to9
#rr-year4
#rrchildrens
#top-100-201718-primary
#top-100-201718-79
#top100age7to9
#top100-all
#top100-all1718
#top100age7to11
#top100-reading-collections
#reading3for2
#bestchildrensbooks3for2
#anti-bully-olderfiction-bullying
#anti-bully-all-older-fiction
#anti-bully-all-olderandteen-fiction
#anti-bully-all-older-and-teen-fiction
#summer-18
#sum-18
#sum-18-ie
#read-and-respond-2018
#pm19-offer
#independentreadingpacks
Fun Stuff
Activities
Learn to speak Dragonese, just like Hiccup!

Is your Dragonese as good as Hiccup's? Find out with this tricky puzzle.

Use the Dragonese Dictionary (or your imagination!) to write these words in Dragonese.

See how many types of dragon you can find in this wordsearch.

Draw your own dragon, just like Toothless!

Colour a common (or garden) dragon.

Here's a stinkdragon for you to colour.

Here's a red hot itchy worm for you to colour!

Colour and create your own Viking crown with Hiccup.

Free dragon profiles to download.

Make your family tree, design a shield and more.

Download freeHow to Train Your Dragon wallpaper.

Download freeHow to Train Your Dragon wallpaper.

Download a free buddy icon of Toothless from How to Train Your Dragon.

If you love How to Train Your Dragon why not try one of these fantastic books?
Who's reading this?
We want to read this book