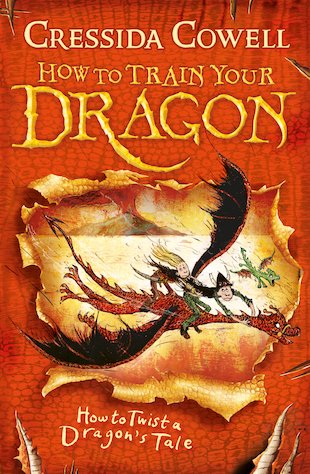 Look inside
How to Train Your Dragon #5: How to Twist a Dragon's Tale
An August heatwave has struck the Isle of Berk, and some say it is a deadly omen of fire-terror and dread. Well, it's the Old Wrinkly who says that, actually… but for once he's right! The Fire Egg has been stolen by a cunning thief, and now the volcano on Volcano Island has awoken… hatching the hidden eggs of the terrible sabre-clawed Exterminator dragons. Terror and laughs are afoot!
Laughs and thrills with our favourite nerdy hero
A wonderful mix of humour, suspense and excitement
Hilarious writing paired with witty pencil cartoons
Hiccup's books are now major Hollywood films
Fun Stuff
Activities
Learn to speak Dragonese, just like Hiccup!

Is your Dragonese as good as Hiccup's? Find out with this tricky puzzle.

Use the Dragonese Dictionary (or your imagination!) to write these words in Dragonese.

See how many types of dragon you can find in this wordsearch.

Draw your own dragon, just like Toothless!

Colour a common (or garden) dragon.

Here's a stinkdragon for you to colour.

Here's a red hot itchy worm for you to colour!

Colour and create your own Viking crown with Hiccup.

Free dragon profiles to download.

Make your family tree, design a shield and more.

Download freeHow to Train Your Dragon wallpaper.

Download freeHow to Train Your Dragon wallpaper.

Download a free buddy icon of Toothless from How to Train Your Dragon.

If you love How to Train Your Dragon why not try one of these fantastic books?
Who's reading this?
We want to read this book