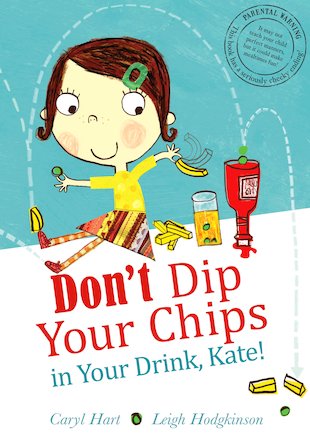 Look inside
Don't Dip Your Chips in Your Drink, Kate!
"Don't dip your chips in your drink, Kate! Eat your cabbage before it goes cold. Don't wipe your nose on your sleeve, Kate! Why can't you do as you're told?"
Poor Kate is being driven mad by her mum's rules for good behaviour – so in desperation, she writes to the Queen, asking for help with her manners. But when the Queen invites her for tea, will Kate learn to be polite? Or will something wonderfully unexpected happen? Teaching key table manners whilst also delighting in sending them up, this anarchic rhyme brims with delicious chuckles. Illustrated with fantastically funny artwork, and full of cheeky ways to have fun with food, it will thrill any youngster who has ever been told off at the table!
"This superbly illustrated, rhyming picture book will delight readers with its hilarious characters and cheeky ending." Booktrust
"The chaos within the pictures is a perfect foil for the witty rhyme." Carousel
"A totally satisfying experience. The illustrations are stunning." School Librarian
"A fun and cheeky guide to the tricky subject of table manners." Sunday Express
Fun Stuff
Activities
Make cupcakes fit for a Queen with Kate from Don't Eat Your Chips.

Cut out and create your own collage with this sheet colours and designs.

A star chart to help you eat your veggies, brush your teeth and get to bed on time with Kate from Don't Eat Your Chips.
Who's reading this?