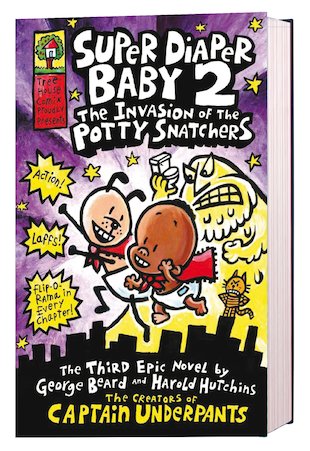 Look inside
Captain Underpants: Super Diaper Baby 2: The Invasion of the Potty Snatchers
It's a leg-crossing mission into laughter for the death-defying duo of Super Diaper Baby and Diaper Dog – complete with action, chuckles and fantastic flip-o-rama!
No baddie wants to mess with Super Diaper Baby. This wee superhero is faster than a speeding stroller, more powerful than diaper rash, and able to leap tall buildings without making poopy stinkers! He's the first newborn ever to stomp on evil baddies without getting his diaper dirty. And now our nappy-clad hero and his trusty sidekick, Diaper Dog, have a new villain to tackle! Dr Dilbert Dinkle started his career as an ordinary evil genius and bank robber. But when he awakens one day transformed into a walking, talking puddle of pee, he vows to destroy every toilet in town. Will the devious Dr Dinkle succeed in ruining restrooms for the rest of us? Or can Super Diaper Baby save widdling for the world?
Fun Stuff
Activities
Colour this hilarious picture of Super Diaper Baby!
Who's reading this?
We want to read this book