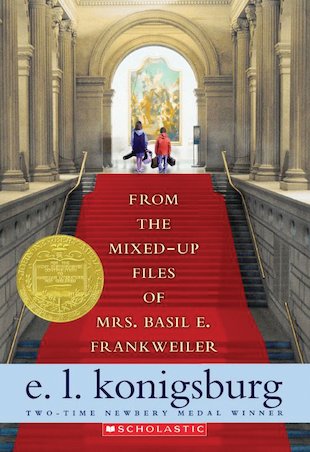 Look inside
From the Mixed-Up Files of Mrs Basil E. Frankweiler
Claudia knew that she could never pull off the old-fashioned kind of running away. That is, running away in the heat of anger with a knapsack on her back. She didn't like discomfort; even picnics were untidy and inconvenient; all those insects and the sun melting the icing on the cupcakes.
Claudia is an eleven-year-old straight A student who decides to run away because she feels unappreciated at home. But she doesn't like discomfort, so she picks a classy destination – the Metropolitan Museum of Art in New York City! With her younger brother in tow, Claudia sets off on a grand adventure; sleeping in the museum at night, and blending in with school groups on field trips during the day. But how long can she and her brother stay hidden? And will they ever solve the riddle of the beautiful statue said to have been sculpted by Michelangelo?
Winner of the Newbery Medal.