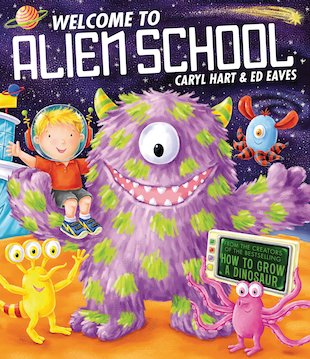 Look inside
Welcome to Alien School
When Mum calls Albie for school one morning, he really doesn't want to go! He's much too busy playing at space rescues with his toys. But once Albie steps into the playground, he quickly realises that this isn't any old school. It's Alien School – and a big, shaggy alien is heading his way! Join Albie as he makes some very odd intergalactic friends, munches on space-ghetti at the school canteen and rides on space scooters. School has never been so much fun! A colourful and imaginative caper from the wildly popular duo behind How to Grow a Dinosaur and Supermarket Zoo.
Fun Stuff
Activities
Can you find the 12 words from the Albie books in the grid?

Using the orange eye as your starting point, draw your very own alien.

With the help of an adult cut out the pieces to create your own alien jigsaw.