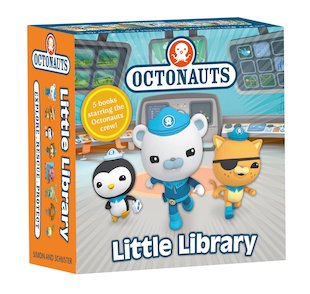 Look inside
Octonauts Little Library
Take the plunge into a world of discovery with our plucky band of aquatic explorers! Meet the crew and set off on a magical mission under the sea! Brave Captain Barnacles Bear is a polar bear extraordinaire and the leader of the Octonauts crew. He's always the first to rush in and help whenever there's a problem. Cool Kwazii Kitten is a daredevil orange puss with a piratical past, who loves excitement and exotic places. Then there's kindly medic Peso Penguin, computer whiz Dashi, and geeky sea otter scientist Dr Shellington. Leap aboard the Octopod with these five friends, as they explore watery worlds and rescue wonderful sea creatures!
Fun Stuff
Activities
Colour Peso, Barnacles and Kwazii aboard the Gup-A!

Match the creature to their shapes in The Octonauts and the Ghost Reef Rescue.

Can you guide the intrepid crew out of the Olde Fangled Caves?

Explore! Rescue! Protect! Hunt out the fishy words in the Octonauts wordsearch.

Match the Octonauts characters with their shadows and names.

Can you spot the five differences between these two pictures of the intrepid Octonauts crew?

Can you spot eight cakes or biscuits missing from the bottom picture?

Can you spot five differences between these two pictures of Kwazii Cat?

Match each Octonaut to their activity on pages 6-7 of The Octonauts and the Only Lonely Monster.
Who's reading this?
We want to read this book