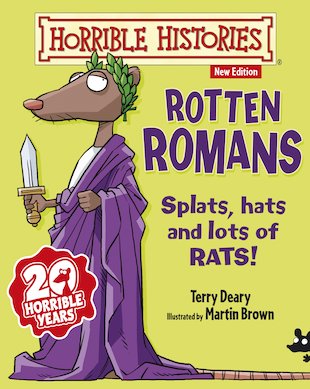 Look inside
Horrible Histories: Rotten Romans
When your teachers drone on about the Romans, I bet they don't tell you how REALLY ROTTEN they were! In their enormous Empire, the ruthless Romans learned all about bossing people about… while inventing tons of terrible tortures for people who didn't do what they said! So grab this book to read all about their beastly battles, gruesome gods and marvellous myths. It's the real story of those rotten Romans… for those who can stomach it!
Celebrating 20 years of the classic series, this anniversary edition is fatter and funnier than ever. A chunkier format with less text and more space for pictures gives new initiates a first taste of laughter, blood and gore!
#horriblehistories-shopall
#horriblehistories-ancienttimes
Who's reading this?
We want to read this book