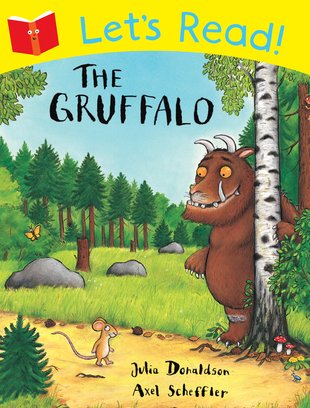 Look inside
Let's Read! The Gruffalo
The nation's favourite bedtime story – now in a simpler format that helps you read it on your own. Hurray! This book has all the original text and complete artwork from Julia Donaldson's classic rhyme. Only now it's got a clearer page layout and typeface to give you a helping hand. If you already know the story, use your memory as a guide. Or if you don't, you've got a huge treat ahead: enjoying it for the first time! Head into the Deep Dark Wood and meet the hairy Gruffalo. From his terrible tusks to his terrible claws, we love every inch of him.
Fun Stuff
Activities
Can you draw a picture of the Gruffalo?

He has terrible teeth and terrible claws

Can you colour in this picture of the Gruffalo opening his birthday cards?

Can you spot the five differences between the two pictures?

Make your very own finger puppets of the Gruffalo and friends, so you can act out the adventures of the deep dark wood!

Make your own Gruffalo Jumping Jack!

Follow these instructions to make your own Gruffalo Jumping Jack!

Our top picture book picks for fans of the bedtime beastie.

Now you can be a Gruffalo too! A Gruffalo mask to colour and make.
Who's reading this?
We want to read this book