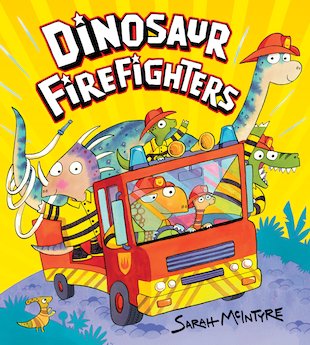 Look inside
Dinosaur Firefighters
Fire! Fire! Quick – call the dinosaurs! This crazy crew can handle any emergency. Or can they? A dippy diplodocus is facing her very first day on the job, and she's got a lot to learn. Yikes! Join the Dinoville firefighters as they slide down poles, screech their sirens and rush off to rescue a trapped T.Rex. Action stations! NEE-NAR. NEE-NAR. Can our confused diplodocus go from zero to hero?
A super-silly sequel to the brilliant Dinosaur Police
Bursting with energy, action, humour and zany artwork
Exciting rescue theme and a message about having a go
By the best-loved creator of There's a Shark in the Bath
Fun Stuff
Who's reading this?