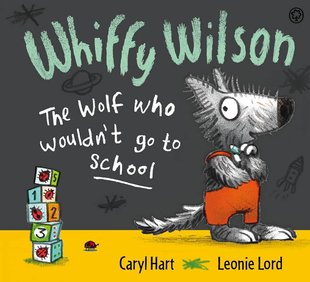 Look inside
Whiffy Wilson: The Wolf Who Wouldn't Go to School
Really funny and reassuring. This stinky little wolf finds out why school is cool. (You'll love it too.) Whiffy is our kind of friend: cute, scruffy and very funny. There's just one problem: he never wants to go to school. He thinks it's boring, and he'd rather watch TV all day. Oh, Whiffy! That is really dim! If you don't come to school, you'll miss snack time, storytime and playtime with your friends. Plus you won't learn anything. Will Whiffy ever become a super student and win a gold star for his work? Well, that would be telling…
#reading-lists-5
#starting-school-top-10
#younger-readers
#young-readers
#first-day-of-school
#firstdayofschool
#startschool
#ey-books
#young-readers-1
#early-books1
Fun Stuff
Activities
Colouring, drawing and puzzles to bring Whiffy Wilson to life.

Use your best pencils to colour this lovely picture of Whiffy and Dotty playing in the mud!

Where do pongs and germs lurk on Whiffy Wilson?

Can you spot four differences between these pictures of Whiffy and Dotty?
Who's reading this?