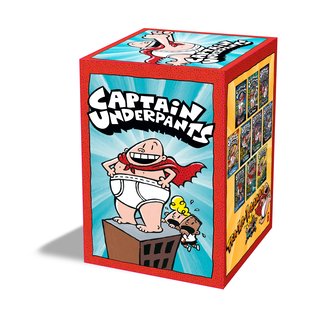 Look inside
Captain Underpants: Captain Underpants Box Set x 10
Every underwear fan needs a coordinating set. Tra-la-la: show this one off. Ten books full of jokes about pants. Who says you have to grow out of toilet humour? Not this heroic Waistband Warrior. What's his superpower? Making you laugh till your pant elastic snaps. His books are stuffed with: jokes about toilets and bottoms. Funny cartoons. Silly plots. Evil villains with rather naughty names. So grab this massive box set and join the cheeky fun. Go on – you know you want to!
#reading-lists-7 p(hidden). #wigig
Fun Stuff
Activities
Happy Underwear Day! A Captain Underpants pic for you to colour!

Pants, wedgies and toilets… a fun Captain Underpants crossword for you!
Who's reading this?