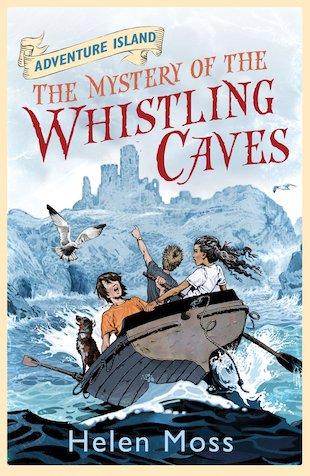 Look inside
Adventure Island: The Mystery of the Whistling Caves
When the famous whistling caves fall silent and treasure goes missing from a clifftop castle, three kids and one dog must solve the mystery! Scott and Jack Carter are far from impressed when they're packed off to stay with their boring great aunt for the summer. But then they meet Emily Wild and her dog, Drift, who show them the lighthouse, the island castle and the amazing whistling caves. Legend has it that if the caves stop whistling, the castle will be attacked – and when priceless treasures are pinched from the castle, that's exactly what happens! But how was the treasure smuggled out of the castle? Why did the caves stop whistling? And can the friends solve the mystery in time to catch the thief? A page-turning adventure in the grand tradition of Enid Blyton's Famous Five.
"A great romp of a story, definitely a page turner, and would make fabulous holiday reading." Bookbag
"Helen Moss has captured that Blytonesque essence, bottled it, added a dash of real life and a slice of modern times to create a whole new series for today's generation." Serendipity Reviews
"A well-written, wholesome adventure." Junior
Who's reading this?
We want to read this book