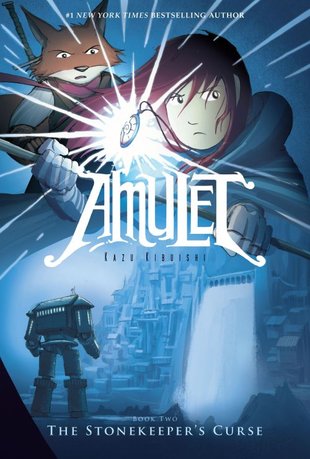 Look inside
Amulet #2: The Stonekeeper's Curse
Killer spiders, adorable robots, walking houses and beautiful waterfall cities: you'll find them all in Amulet. So stay home if you'd rather be boring. Emily and Navin's mother is in a coma after being poisoned by an arachnopod. There's only one place they might find help for her: Kanalis, a dazzling city of waterfalls. But when Em, Navin, Miskit and their robotic crew reach the city aboard their walking house (envy!), it becomes clear that asking for help is asking for trouble. Very dangerous trouble.
Second in this breathtaking graphic fantasy series
The first book was a bestselling

ALA

Best Book
Full-colour art by comics star Kazu Kibuishi
Film rights recently sold to 20th Century Fox
#adventure-sc17
#screen-gaming-17
#thrillers-sc17
Who's reading this?
We want to read this book