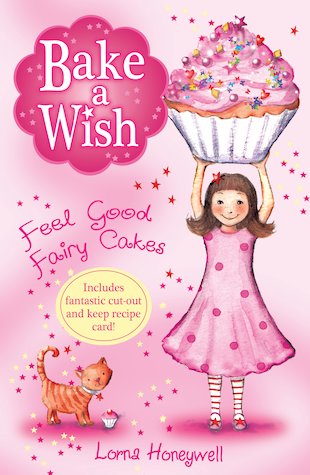 Look inside
Bake a Wish #1: Feel Good Fairy Cakes
A deliciously tempting series for lovers of cupcakes, cookies and candies! Every day after school, Lily and Archie go to play at Grandma's house. That's where they discover the 'magical' baking jar! It's full of special secret ingredients that make any bad day seem better. And just when Archie is down in the dumps, the jar comes to the rescue with the recipe for Feel Good Fairy Cakes. No one can be in a bad mood when they taste them – not even the grumpy neighbour, Mr Mellor!
This oh-so-sweet story includes a scrumptious cut-out recipe card for baking your own feel-good treats!
Fun Stuff
Activities
Need to feel confident? These Can-Do Crispies should do the trick!

Eat Feel Fearless Flapjacks and you won't be scared anymore!

Cheer someone up with Feel Good Fairy Cakes!

Need a pick-me-up? Try Get-Better Jelly!
Who's reading this?