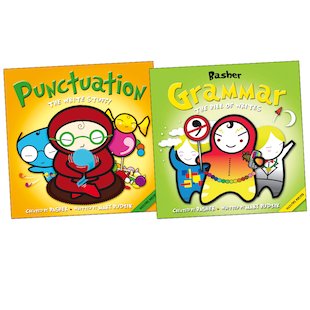 Look inside
Basher: Grammar and Punctuation Pair
Meet a tough-talking crew of manga characters who put words and punctuation in their proper place! In a punchy blend of facts and edgy urban art, these colourful books take a streetwise look at English usage. Giving grammar rules and punctuation marks their very own quirky manga personalities, brought to dramatic visual life by urban artist Simon Basher, this bumper pack introduces you to heaps of cool characters who can transform your writing into something really special! Zesty Verb, always at the centre of the action; loud-mouthed Exclamation Mark – and curious Question Mark, who never shuts up! It's learning with attitude!
Praise for the series:
"The look is punchy, immediate and effective. The content is equally gripping." The Guardian
"This blending of science and art is pure genius." www.writeaway.org.uk
Who's reading this?
We want to read this book