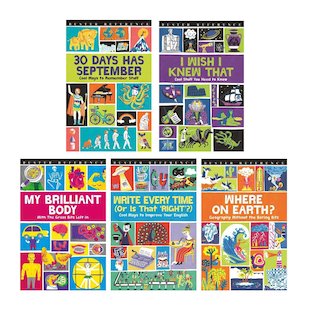 Look inside
Boost Your Knowledge Pack x 5
The fun way to ramp up your know-how. Tons of cool facts – plus a memory guide to help you remember them! What's inside your body? How are raindrops made? Where are the seven wonders of the world? What's the best way to boost your memory? These funny and fascinating books cover all the stuff you need to know for school (and more!) in a fresh and funny way. From cool facts your grandparents learned at school to amazing memory tricks, they aren't your normal look-up guides. They're way better! Prepare to show off!
Totally original reference guides bursting with cool facts
Grammar, geography, memory tricks, biology and more
Clear, punchy writing paired with appealing illustrations
Key school topics explored in a fresh, memorable way
#march-british-science-week-18
Who's reading this?
We want to read this book