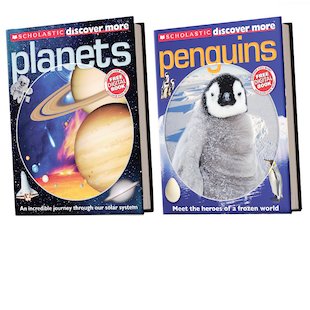 Look inside
Discover More Pair: Ages 5-8
Two huge favourites from our flagship non-fiction series. Sensational facts, links and photos in an interactive layout: the power of the web, but in a book. Everyone loves to look stuff up online. So at Scholastic, we had the bright idea: what if we could make fact books as cool as the web? Discover More is what we came up with. Books you can browse through, surfing through pictures frame by frame, or checking out fun tidbits and extras. Dramatic graphics and expert facts, plus FREE digital companion books. And it works: you're so into the idea that it's become one of our fastest-selling series.
Science and nature facts from a bestselling series
Kids love Discover More and give it great reviews
Free digital books with activities, games and extras
Who's reading this?
We want to read this book