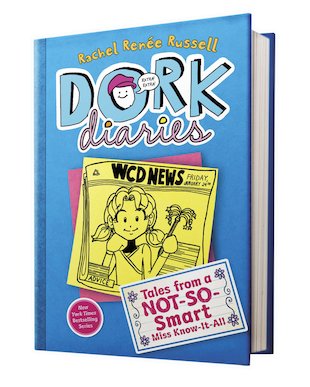 Look inside
Dork Diaries: Tales of a Not-So-Smart Miss Know-It-All
She's the least likely agony aunt on the planet. The agony's all hers. The pleasure is all ours. Why, oh why, would someone as not-clued-up as Nikki become an advice columnist? Is it just to make us laugh? Well, it may or may not (okay, definitely does) relate to the fact that mean girl Mackenzie is writing a gossip column. Nikki can't have her crush on Brandon reported to the world. She needs to take action. So our favourite dork joins the school newspaper staff as the problem-busting Miss Know-It-All. But soon her inbox is overflowing with pleas for guidance. Yikes. Should someone this clueless really be handing out advice? Perhaps we should write in and ask.
Fun Stuff
Activities
Create your own comic classroom caper with Dork Diaries.

Get creative with your dress design. It's party time!

Create your own reading diary.

Find all the character names in this Dork Diaries word puzzle.
Who's reading this?