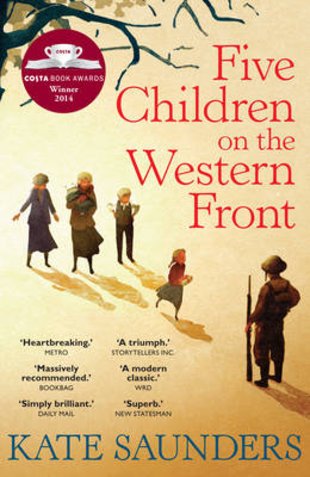 Look inside
Five Children on the Western Front
Winner of the Costa Children's Book Award 2014
A classic story (Five Children and It) gets rewritten by a top author (Kate Saunders of Beswitched.) Add a dash of magic and a wartime twist, and what do you have? A cosy pleasure worth bribing your lil' bro out of your fave armchair for. The five children have grown up. World War One has started. Cyril is away fighting, Anthea is at art college, Robert is a Cambridge scholar and Jane is at high school. The Lamb is now eleven, with a little sister in tow. Their sand fairy, the Psammead, has become a creature of stories – until he suddenly returns. And this time, his magic might have a more serious purpose.
A magical sequel to E. Nesbit's Five Children and It
By the author of Beswitched and Magicalamity
A unique new take on First World War fiction
Explores the war's impact on young people
#talented-readers
#warstories
#wwi-010716
#firstworldwar-sc
#gr-9to10
#rd-0811
#1114-12years
#toppacks-reading-collections
#sum-18-ie
#poppy-field-reading-list
Who's reading this?
We want to read this book