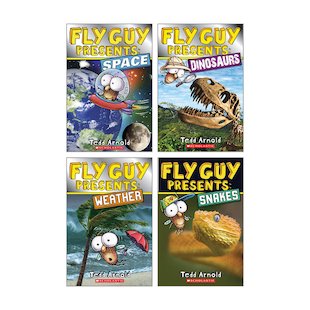 Look inside
Fly Guy Presents Pack x 4
Want non-fiction that really gets you buzzing? And that shows you the world from an incredible fly's-eye view? (Fact: flies have the fastest vision in the animal kingdom.) Or that takes you up close into places where no human can go – but a fly totally can? Then say hello to Fly Guy Presents! In this series, the legendary Fly Guy and his human friend Buzz explore your favourite non-fiction topics. Jokes, amazing facts, photos, full-colour cartoons, secret fly wisdom, reading practice… It's not like any other non-fiction. Nope: it's way more fun!
Themed pack focusing on our world and natural history
Funny fact books with amazing holographic foil covers
Exciting mix of colour cartoons, photos, facts and jokes
Phonetic spellings show how to pronounce longer words
Children adore this New York Times bestselling series
Who's reading this?
We want to read this book