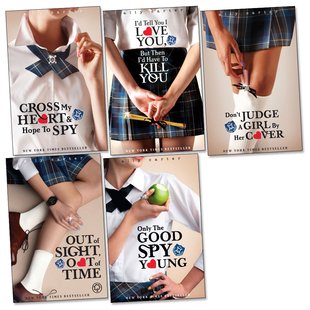 Look inside
Gallagher Girls Pack x 5
Enrol in the original school for spies, where intrigue, danger and romance are top of the timetable. Ally Carter's smash-hit series is the last word in addictive! Gallagher Academy might claim to be a school for geniuses. But it's really an elite school for spies. Pupil Cammie Morgan is fluent in fourteen languages, and capable of killing a man in seven different ways (three of which involve a piece of uncooked spaghetti). The Gallagher girls are ready for pretty much any covert operation. Too bad nobody thought to prepare them for the dramas of teenage crushes!
Ally Carter's bestselling series about a girls' school for spies
Sheer entertainment in a fun concept that breaks fresh ground
A totally addictive mix of sassy wit and thrilling spy antics
Ally's other books include Heist Society and Embassy Row
"A great guilty pleasure… Step out of your reality bubble and enjoy!" Teen Today
Fun Stuff
Activities
Download a free original crossover story by Ally Carter. Heist Society meets Gallagher Girls!

Download free Gallagher Girls wallpaper.