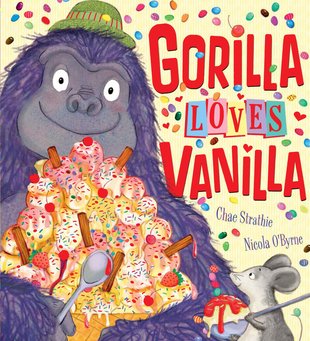 Look inside
Gorilla Loves Vanilla
Slurp: it's even sweeter than it looks. This kind gorilla loves ice cream – and sharing! We've got a question for you: what's the nicest ice cream flavour? It's a tough one, right? The animals at Little Sam Sundae's ice cream parlour aren't sure. So they try out some new flavours. Hen asks for a worm cornet. Mouse wants a blue cheese sundae. Finally, it's Gorilla's turn – but he just orders plain old vanilla. Boring! Or is it? Soon his friends decide they've not made very good choices. Sometimes plain is perfect. Luckily, Gorilla loves sharing!
Rhyming fun from the prize-winning author of Jumblebum
Chae's books include Ping! and Bedtime for Tiny Mouse
Nicola O'Byrne is the illustrator of Open Very Carefully
She has twice been nominated for the Greenaway Medal
#pick5-books-for-10
Who's reading this?
We want to read this book