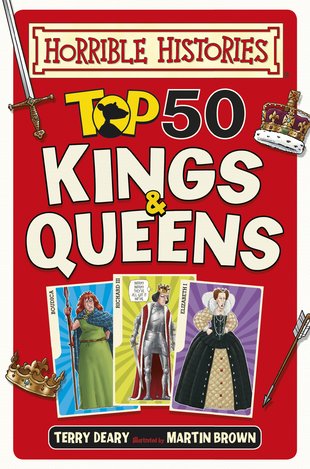 Look inside
Horrible Histories: Top 50 Kings and Queens
Terry's royal wall of shame! Who's who of the murderous monarchs? Maybe you think being a king or queen is all about swanky outfits and garden parties. Um – wrong. Very wrong. If these ruthless rulers are any guide, it's about how many heads you can chop off! And who better to reveal their dreadful deeds than the reigning king of yuck, Terry Deary? This colour hardback is basically a wall of shame for British monarchs from the past right up to the now. (Yep: they're horrible and homegrown.) Expect more foul facts, loathsome lists and cool cartoons than King Henry VIII had wives!
A royal who's who by Horrible guru Terry Deary
British monarchs from ancient times to today
Full-colour cartoons and snappy quick facts
Great for homework and school projects
#back-to-school-top-10
#britain
#leaders
#rulers
#leaders-who-changed-the-world
#horriblehistories-shopall
#horriblehistories-aristocracy
Who's reading this?
We want to read this book