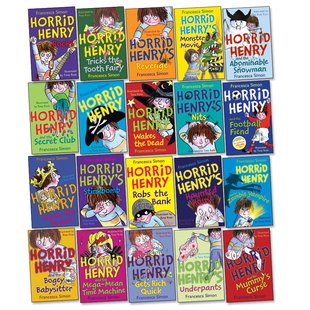 Look inside
Horrid Henry Bumper Bonanza
Lots of little boys are naughty. Sometimes they're even quite nasty. But none of them were ever as naughty and nasty as Horrid Henry! He's the boy who has his teachers running from the classroom; the one who leaves grown-ups in tears, and his unlucky playmates hiding behind chairs. And now his poor old mum and dad have simply had enough, and they're ready to give him away to anyone who'll have him! So take this big bad sack of Horrid Henry off his parents' hands. They'll be smiling with joy – and you'll be cackling with glee!
Fun Stuff
Activities
Follow the tangled string to find out who gets wet when the buckets tip over!

This wordsearch is full of Henry's favourite gruesome words – can you find them all?

Horrid Henry sets out to scare on Halloween. Can you find the four matching pairs?

Can you find the words Henry and Peter would use in their sleepover stories?

Get rocking with everyone's favourite fiendish boy!

Impress your friends with this selection of Horrid Henry's favourite jokes from his latest book.

Can you spot the six differences between these two pictures of Horrid Henry being chased by a zombie bunny?

Horrid Henry loves trick or treating – especially when the treats are sweets! Guide him through the maze to find the big jar of sweets.
Who's reading this?