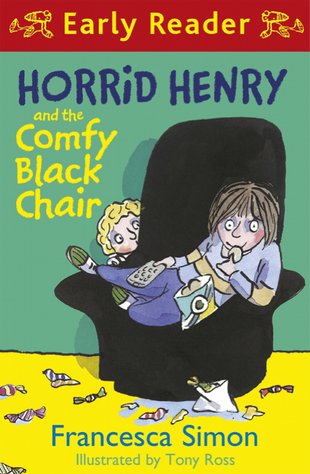 Look inside
Horrid Henry Early Reader: Horrid Henry and the Comfy Black Chair
Watching TV in the comfy black chair? YEAH! But sharing it with Perfect Peter? Not likely… Laugh your head off at an epic sibling battle in Henry's cheeky colour reader. Now – hands up if you think Perfect Peter is a total wimpy smelly nappy-poo? Right, that's all of you. But you're in for a shock. Because in this story, Peter is fighting back. He wants that chair just as much as Henry. Only one brother can win this all-out war. Who's your money on? Place your bets now.
Fun Stuff
Activities
Follow the tangled string to find out who gets wet when the buckets tip over!

This wordsearch is full of Henry's favourite gruesome words – can you find them all?

Get rocking with everyone's favourite fiendish boy!

Horrid Henry loves trick or treating – especially when the treats are sweets! Guide him through the maze to find the big jar of sweets.