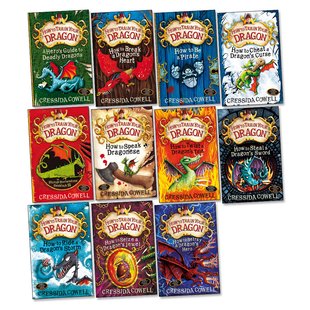 Look inside
How to Train Your Dragon Pack
Now with collector cards for your own swapping games! Meet Hiccup Horrendous Haddock III, a wimpy warrior in training. Cartoons and crazy laughs: Tom Gates gone Viking. Hiccup is the puniest Viking in history. He's not big or hairy or scary at all. As the chief's son, he's meant to be strong and valiant. Instead he's the laughing-stock of the whole tribe. His knees knock, he thinks too much, and he doesn't look terrifying – he looks cute. Being a hero has never been so hard! Vikings, dragons, pirates and genius pencil cartoons: one of our favourite series of all time.
'One of the greatest inventions of modern children's literature.' Julia Eccleshare
#gift-packs
Fun Stuff
Activities
Learn to speak Dragonese, just like Hiccup!

See how many types of dragon you can find in this wordsearch.

Colour a common (or garden) dragon.

Colour and create your own Viking crown with Hiccup.

Download freeHow to Train Your Dragon wallpaper.

If you love How to Train Your Dragon why not try one of these fantastic books?
Who's reading this?