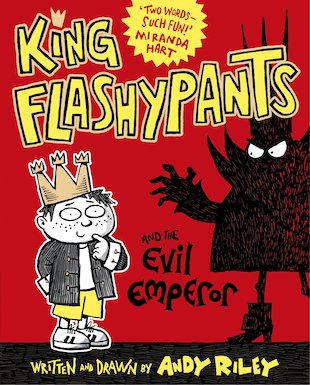 Look inside
King Flashypants and the Evil Emperor
Laugh your pants off with a new king of funny fiction! Ruthless rivals, evil toys: who knew being a king would be this hard? King Edwin is one lucky kid. He has almost everything he wants. You know: a throne, and a suit of armour, and a castle with secret passages. Jealous yet? But he's also got something he doesn't want: a totally evil rival! Emperor Nurbison looks scary, in his pointy-collared black cloak. He even sounds scary, with his horrible marching band. When he builds a fake dragon to terrify the peasants, how will Edwin stop his wicked plans?
Hilarious young fantasy fiction with brilliant cartoons
By Emmy-winning cartoonist and screenwriter Andy Riley
Andy wrote the script for

BBC

One's Gangsta Granny
"Brilliantly original and hilarious" – David Walliams
Who's reading this?
We want to read this book