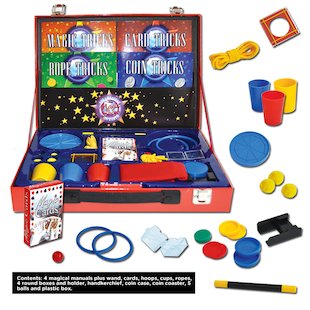 Look inside
Magic Briefcase
Don't just dream of being a great magician: make it happen. Stage the greatest magic show on Earth. Here's all the stuff you need to perform over 30 eye-popping tricks. Coin tricks, card tricks, rope tricks: wow everybody you know! Make things disappear in a puff of air. Use sleight of hand to make coins shrink. How did you do that? Your friends will be amazed.
A bumper box stuffed with equipment and tricks to try
Discover the secrets of history's greatest magicians
Master amazing card tricks, rope tricks and coin tricks
With four instruction books and heaps of magical gear
#hobbies
#pastimes
#boredom-busters-1212
Who's reading this?
We want to read this book