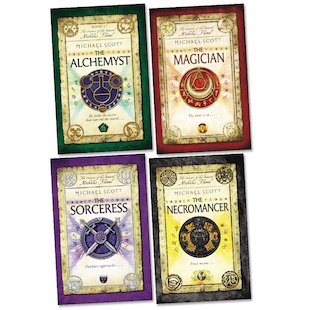 Look inside
Michael Scott Pack
A book which holds the secret of eternal life. A prophecy which tells of two special children. As the evil occultist Dr Dee sets in motion his apocalyptic plan, can an immortal alchemyst and two schoolkids stop him?
Born in Paris in 1330, alchemyst Nicholas Flamel was said to have discovered the secret of immortality. Records show that he died in 1418. But his tomb is empty. The great alchemyst lives – and the secret of eternal life is hidden in the book he protects. The most powerful book that has ever existed, which in the wrong hands could destroy the world. Which is exactly what evil necromancer Dr John Dee plans to do with it… Yet prophecy tells of a pair of twins with the power to defeat the Doctor and save the world. Now these Californian schoolkids are about to find themselves living in a legend. To survive, Josh and Sophie must learn magic, battle monsters, and – most importantly of all – work out who they can trust.
"The King of fantasy" The Irish Times
"A cracking adventure." The Bookseller
Who's reading this?
We want to read this book