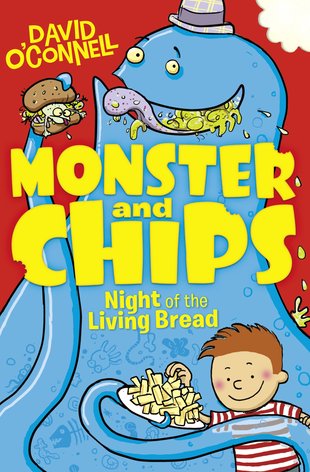 Look inside
Monster and Chips: Night of the Living Bread
Like a good dinner? Or a good laugh? Or a frog burger? Tuck in at the Monster Diner. All the folk there are monsters – apart from Joe, the trainee 'hooman' helper. Now Joe and Fuzzby are cooking for the Night Mayor's feast at the spooky Tower of Doom. Rumour warns that if the Night Mayor doesn't like the food, the monster chefs will be thrown into the dungeon… forever! Joe and Fuzzby prepare slugs-on-sticks, dangerous pie (warning: do not turn your back on it) and twitching toad sausages. As a last resort, there's always the Ultimate Pizza of Darkness. Will they impress the Night Mayor? Or have they served their last bowl of bumbean stew? One tasty read!
Fun Stuff
Activities
Colour Uncton Slugglesbutt from Monster and Chips!

Colour Joe, Fuzzby (and Barry) from Monster and Chips!

Colour Mr Jubbins from Monster and Chips!

Colour Twig from Monster and Chips!
Who's reading this?