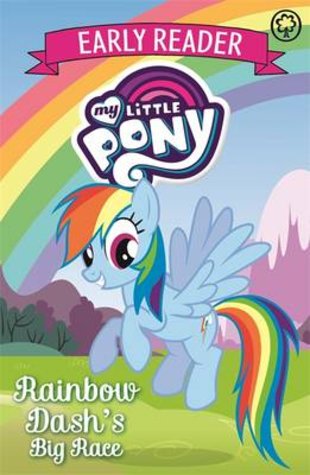 Look inside
My Little Pony Early Reader #3: Rainbow Dash's Big Race!
She's faster than light – and way more colourful. Let Rainbow Dash speed your reading up! When you're starting to read on your own, you need a few special things. 1) A story you'll love. 2) A nice easy book. 3) Lots of colourful pictures! Luckily, Rainbow Dash's fabulous story has all those things. How fast can you race through it? Super-speedy Rainbow Dash has a dilemma. She REALLY wants to win the Equestria Games relay race – but the rest of her team are kind of slow. When she gets the chance to fly with her heroes, the Wonderbolts, Rainbow Dash feels torn. She loves her friends – but does she love winning even more?
Colour easy reading from the world of My Little Pony
Split into short chapters with beautiful colour pictures
Thought-provoking story about friendship and loyalty
Quickly builds confidence, vocabulary and enthusiasm
#film-tv-march17
Who's reading this?
We want to read this book