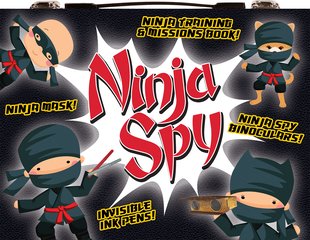 Look inside
Ninja Spy Briefcase
To watch without being seen. To hear without making a sound. To move unseen, like a dark shadow. Those are the skills of a ninja. The greatest secret agents in history. So silent and stealthy that when a mission is done, no one even knows it happened at all. It's the ultimate in spy perfection. Do you want to be that good? Start with this kit: your all-in-one ninja tutorial. Packed with facts and missions, useful kit and a mask for your ninja disguise. Be the black shadow in the darkness.
Sturdy snap-closure briefcase full of essential ninja kit
Learn the techniques of the master spies of Japan
Ninja handbook of history, facts and training missions
Ninja mask, spy binoculars and 2 invisible ink pens
#crown-jewels
Who's reading this?
We want to read this book