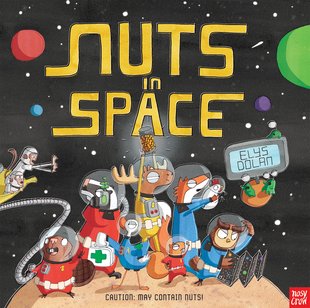 Look inside
Nuts in Space
A funny picture book to go totally nuts about! Think Star Wars with astronaut animals. When an elite crew of furry friends zoom to space, they find a mythical snack: the Lost Nuts of Legend. If you eat them, your pants will never need changing! But getting those magical nuts home won't be easy. The Star Nav is broken. Plus, it was a REALLY bad idea to stop at the Death Banana… The busy artwork in this funny book reminds us of Richard Scarry (which means it's very good indeed). You'll love it – and so will your grown-ups: it's full of silly wisecracks to make them chuckle. Perfect for bedtime.
A brilliantly nutty and entertaining space adventure
By a rising star who came second in the Macmillan Prize
Elys Dolan's books include Steven Seagull, Action Hero
"Crazy, zany, wonderfully inventive" – Kids Book Review
Who's reading this?
We want to read this book