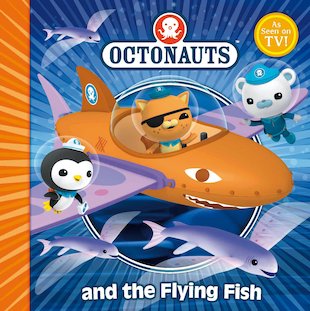 Look inside
Octonauts and the Flying Fish
Our aquatic aces are taking to the air!
When a school of flying fish accidently make off with a rare book belonging to Professor Inkling, the Octonauts must rig up the GUP-B to fly after them and get it back! Another brilliantly witty and beautifully produced environmental adventure featuring the squad led by Captain Barnacles Bear and his loyal animal assistants!
Fun Stuff
Activities
Colour Peso, Barnacles and Kwazii aboard the Gup-A!

Match the creature to their shapes in The Octonauts and the Ghost Reef Rescue.

Can you guide the intrepid crew out of the Olde Fangled Caves?

Explore! Rescue! Protect! Hunt out the fishy words in the Octonauts wordsearch.

Match the Octonauts characters with their shadows and names.

Can you spot the five differences between these two pictures of the intrepid Octonauts crew?

Can you spot eight cakes or biscuits missing from the bottom picture?

Can you spot five differences between these two pictures of Kwazii Cat?

Match each Octonaut to their activity on pages 6-7 of The Octonauts and the Only Lonely Monster.
Who's reading this?
We want to read this book