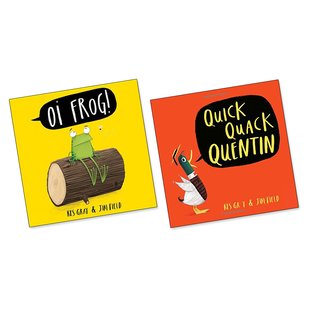 Look inside
Oi Frog/Quick Quack Quentin Pair
Super-silly fun from a genius team. Think ducks must say quack and frogs must sit on logs? Not anymore. If you've ever read best-loved classic Eat Your Peas, you'll know that Kes Gray is a very funny man. But did you know that frogs can also be funny? Or even ducks? Well – they are, when Kes writes about them! (With extra giggle energy from illustrator Jim Field.) In Oi, Frog!, cats are sitting on mats and hares are sitting on chairs. It's all very nice and polite, until Frog ruins this perfect scene. Frog refuses to sit on a log. And things only get more muddled when a confused duck shows up. Will he say 'quack'? No. He says 'quck'.
Two cheeky classics from an all-star picture book team
Oi, Frog! was nominated for the 2015 Greenaway Medal
Kes Gray is the author of all-time classic Eat Your Peas
Anarchic stories which contain fun lessons about language
Who's reading this?
We want to read this book