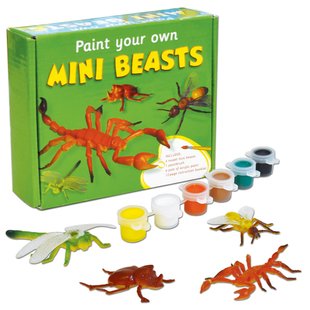 Look inside
Paint Your Own Mini Beasts
Get your bug collection off to a startling start. These awesome exhibits will freak out your mum – but they won't scuttle away! Freakily realistic creepy-crawlies: what a way to grab attention. You can use them to start an insect zoo or make windowsill displays. There's a scorpion, a hornet, a dragonfly and a fearsome rhinoceros beetle. Paint them and use them for all sorts of stunts. Such as (whisper it) some horrid pranks!
Four bug models plus six paints and a brush
Booklet of facts and ideas to get you started
Create your own amazing insect collection
Paint the bugs and then play games with them
#hobbies
#pastimes
#activitybooks-26052016
#activity-26052016
Who's reading this?
We want to read this book