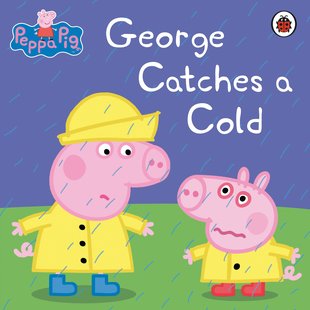 Look inside
Peppa Pig: George Catches a Cold
A reassuring autumn story in which little pig George finds out how doctors can help us. Atishoo! George has gone out in the rain without his rain hat on, and now he's caught a cold. Luckily Dr Brown-Bear has some medicine to help him. Follow the simple story as George learns to take his medicine, and discovers that prevention is the best cure of all. This bright story is perfect for your little piggies to share together, cuddling up as they find out why it's important to wrap up warm on chilly days.
Fun Stuff
Activities
Peppa loves to ride her bike, and now you can colour her in!

Colour this picture of Peppa's mummy reading her book.

Fill in the gaps in this Peppa story by using the words below.

Daddy Pig shares his top tips for learning to read Peppa Pig style!

Make your own Peppa Pig bookmark.

Colour this picture of Peppa's daddy reading his newspaper.

Colour this fun picture of George playing with his spotty ball.

Colour Peppa's house and the draw a picture of your home!

Everyone loves to jump in muddy puddles, especially Peppa and her family. Use your brightest colours!

Peppa and George love muddy puddles! Read the poem and shout out the right word when you see a picture.

Download your very own Peppa Pig certificate for piggy-tastic reading!

Here's a summery Peppa word puzzle for you to solve.