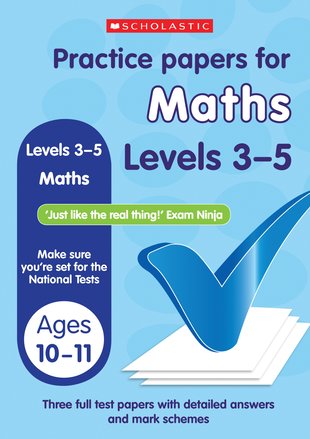 Look inside
Practice Papers for National Tests: Maths (Levels 3-5)
Utterly realistic test preparation. Looks exactly like the real thing. Get prepared so you can do your best.
Don't be caught out by the new-style SATs. Get ready with our totally authentic practice papers. EXACTLY like the real thing. No exaggeration. They're 100% in line with the 2014 National Tests: identical in format to the actual test papers. A great way to preview the look of your tests, know what kinds of questions you'll face, and sort out any problems in advance. Made by yours truly at Scholastic: the UK's bestselling name in exam practice. Don't believe us? Check out the Exam Ninja review.
"Take our word for it, these papers are what we have all been waiting for. We were blown away by the ninja level of detail… Just like the real thing." Exam Ninja
Perfect for use at home or in school
Three test papers plus answers and mark schemes
The ideal way to get prepared
Who's reading this?
We want to read this book